So you've decided to start running to work, fantastic! Running the morning commute is the start of a new path to change and improve your life. I've been run commuting for over three years, I live approximately 9km from my work, but have plenty of good options to extend that if I need to run further. 
Running improves your health, a fact which is backed up by a wealth of medical research. Running to work is an excellent way of maintaining your running fitness, burning fat and losing weight. 
One of the key benefits is the buzz of having completed a good workout before your arrive at work. 
Over the years I've picked up a few tricks and hacks that will hopefully help you to start running to work. Here are my tips:
1. Why Run to Work?
Perhaps the first and most important tip is to figure out why you want to run to work. What is your motivation? Is it to get fit, train to enter a race or just lose some weight. Mentally you need to make running to work a life change rather than something you will only do for a few weeks.
Having some kind of goal will help before you start. It might be helpful to write this down as some kind of target. Goal setting helped me when I started as I wanted to get down to a certain weight to run quicker for a half marathon event I had entered. Perhaps you could join an event to challenge yourself?
The Runtastic channel from Adidas has a fantastic video on setting SMART goals for running:
2. Download a running app for your phone.
There are plenty of free apps for most phones (both IOS and Android), including Strava, RunKeeper or MapMyRun. All of these apps will help you to track your progress over time and motivate you more.
I especially like the social angle of Strava, which allows you to get competitive with your friends overrunning speed and distance.
There are paid versions of these apps that offer more detail and analysis plus expert training plans.
3. Develop running routines and habits.
Consider those goals from point 1. There will be many bumps along the road in achieving those goals. You might get injured, or your resolve weakens that Monday morning when it is pouring with rain!
If your goal is to lose weight, you should consider breaking this down into smaller, manageable targets. Losing the full amount could seem impossible at the start, so give yourself mini-goals to hit along the way. That way, if you miss a day or two, you'll still feel the motivation to get back out there. 
Make a habit of packing your backpack the night before everything is ready to go in the morning. It's one less excuse!
TIP: try setting SMART weekly goals that break down your overall target.

For example, "I plan to build my running distance by 10% each week with an aim to lose 1kg of weight each month.
4. Buy a decent pair of running shoes.
While it might be tempting to use those old trainers at the back of your wardrobe, stop! I've been there and got the t-shirt trying to run consistently with cheap shoes that don't offer the correct support. Sadly, this led to a stress fracture in my leg!
Your running feet will fall into one of three categories, over-pronation, neutral or under-pronation.
These are how your foot moves as you land to absorb the impact. Different running shoes can help depending on which of these three catergories you fall into.
It is worth having a gait analysis at your local running shop. This test will help you buy a pair of running shoes suited to your form, which should prevent future injuries.
This certainly helped me find a pair of running shoes I was comfortable with and could run to work consistently without further injury.
5. Buy a decent running backpack.
One of the essential pieces of kit you will need to invest in is a running backpack or rucksack (as we call them here in the UK!). There are some backpacks which are made specifically for running. The backpack you choose needs to have decent straps and a waistband to increase stability. This helps to stop it bouncing when you run. 
If you need to carry equipment to work such as a laptop or iPad make sure to buy a bag that has the capacity for this as some of the smaller running backpacks don't. If a backpack doesn't have a padded compartment for a laptop than consider buying a padded laptop case.
Make sure you have worked out what the minimum number of items you need to carry is. You should try to leave as much at your workplace as possible to ensure the backpack is as light as possible. This will depend on the facilities you have available such as locker space and showers. 
6. Buy more running kit
You'll find as you get bitten by the running bug that you'll want to invest in more running kit. From a practical point of view, if you're going to run to work five days a week then you will need to think about having enough kit to last each day. In reality you may find yourself also running at weekends too so the more t-shirts, tights and shorts the better.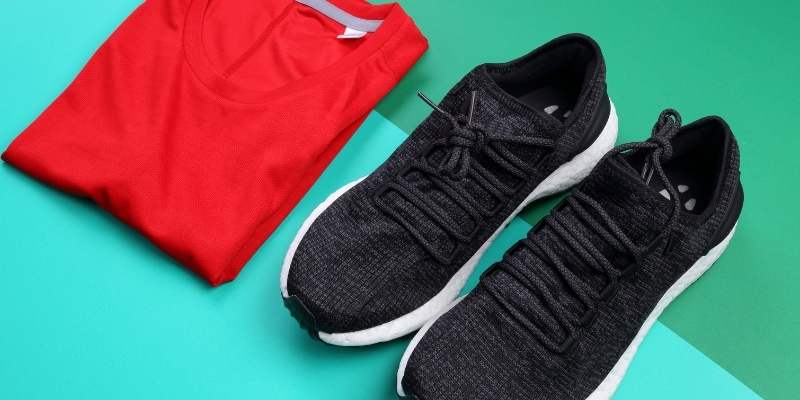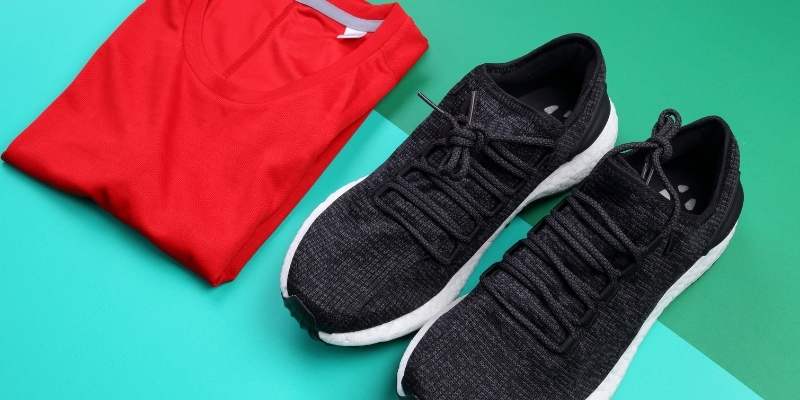 If you regularly participate in running events, you'll start to accumulate race tops which are always good for using on your daily commute. These have the added benefit of advertising your running prowess to passers by. This does no end of good for your ego!
You should invest in a pair of warm running tights as well to ensure that you have something to keep you warm if certain mornings turn out to be chilly.
There are plenty of places to buy new running gear to suit a wide range of budgets, we suggest trying places like Wiggle (for UK) or Running Warehouse (US)
7. Invest in a running watch.
While an expensive running watch might not be the first thing you want to invest in but it would certainly be a useful addition as you get more experienced at running. If you are a regular runner and are just starting to run to work you may already own one.
One of the problems of running with just an app on your phone is the lack of 'to-hand' information. Most modern running watches use GPS and will give you up to the second information on speed and time. Many now feature a built in heart rate monitor that also lets you know how you're working.
Popular brands of running watch include Garmin, Polar and Fitbit. All have their respective advantages and disadvantages and it's certainly worth doing more research into the one which best suits your needs.
A suitable starting watch to look at is the Garmin Forerunner 35. It has all of the functions you need to start tracking your run such as built in heart rate montior, GPS and Bluetooth.
8. Scope out the best route to work.
So you're ready to go, all of your equipment is in the bag. It is worth using a tool like Map My Run to work out which will be your most ideal route to run. In many cases this will be the route of shortest distance at first, but consider how busy the route is.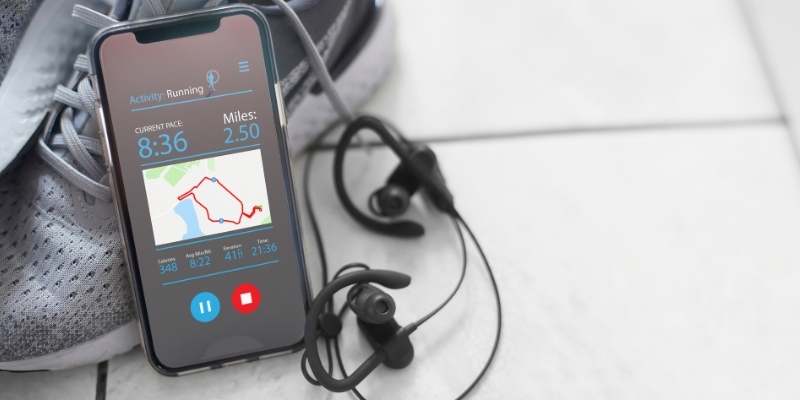 If you work in a major city or near to any major transport hubs it might be worth trying to navigate along side streets rather than the main roads. The advantage of this you'll have less people to avoid as you run. You may also find that you have to stop less at major run junctions.
Another piece of useful advice is to choose a route with wide pavements to help so you're not fighting your way through hoards of people.
9. It rains sometimes…suck it up
If you're going into this with the dream of sun-filled mornings dashing along under the morning sun, we have some bad news. It rains…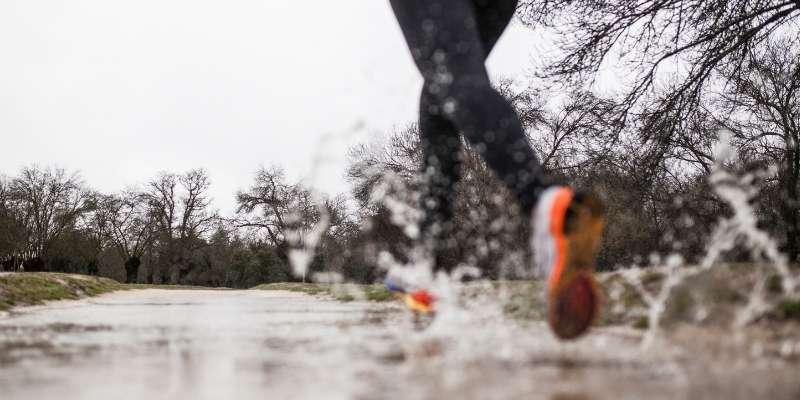 Ok, so it rains more in some places than others, but you need to be prepared to run what ever the weather, just make sure you are prepared in case. Checking the forecast helps, but don't let this be a excuse not to set off. 
Buy a decent running waterproof jacket and you should be fine. You can expect to pay between $100-$400 (or £70-£250 for UK readers). Lots of factors that you will need to consider, but focus on these:
Breathability
Waterproof rating
Reflectiveness
Hood folds away
Price
For men, our favourite all rounder is the Solomon Agile 
For women, our favorite is the Ronhill Women's Infinity
FACT: running the rain toughens you up (Ok that's NOT back by any research, but we believe it's true!
You might want to try to also pick a day when you know the weather will be favourable for your first run. Make sure it happens!
10. Practise running the route beforehand
It is worth running the route to your workplace one weekend before you actually do it for real. This is good for a couple of reasons. Firstly, It avoids having to clean yourself up in the workplace so there is no need to carry your backpack full of gear.
Secondly, unless you plan on getting the bus home again, you're going to effectively run the route there and back so your confidence will be high safe in the knowledge you can actually achieve the distance.
11. Just run one way in the beginning
If the thought of having to run there and back puts you off, you could always opt to only run one way. If you don't fancy having to tidy yourself up when you get to work then the obvious choice would be to run home from work.
The added bonus here is that you don't need to worry about sweaty running gear in the office and you can just throw your work shirt into your running back pack and not worry about it getting creased.
12. Look for scenic routes
Look for routes which take you along footpaths or trails where there is less traffic. Perhaps there is a route through a wood, local park or along a river which won't involve navigating as much traffic.
Running these routes can be a wonderful experience and highly energising first thing in a morning.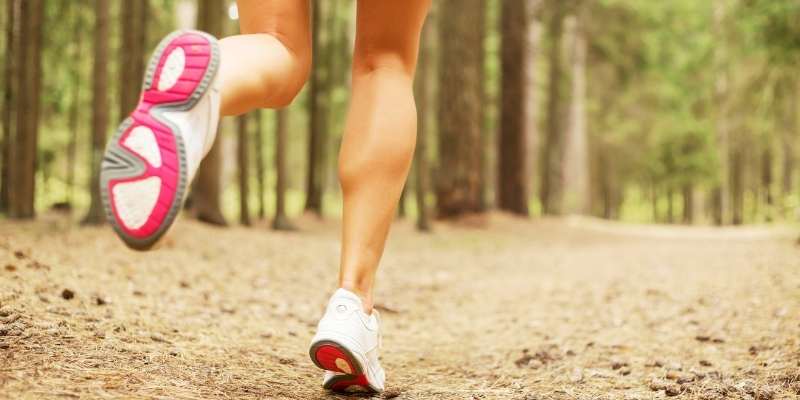 13. After time, take the longer route
At some point you will want to vary your route and with increased fitness you should attempt to run further. Often it is hardest just to get your running kit on and make it out of the door on a cold morning, so why not extend that 5km route to 7km to maximise the opportunity each day while running to work. Remember, once you're out running, what's another 2km?
14. Fuel your run correctly
There are pro's and cons of eating before running. It might be tempting to not eat before your early morning run to work, but this will deplete your energy reserves. This leaves you feeling flat when you arrive or worst still causes you to stop on the way as your glycogen reserves are depleted. This is also known as hitting the 'wall'. Having experienced this a couple of times, it is not recommended!!!
In an ideal world you should eat at least two hours before your run. This would usually involve some healthy carbohydrate-rich foods such as porridge, granola, pancakes, eggs, wholegrain toast or muffins, fruit or fruit smoothie, nuts, cottage cheese, low fat yoghurt.
If you're anything like me though you won't have two hours to wait before needing to leave so you have two options:
Eat a carbohydrate-heavy meal the night before, things like pasta, rice or potatoes or;
Try eating a small, light snack first thing which is full of quick releasing energy. Things like fruit, nuts or a shake. My personal favourite is a banana!
15. Make a great music playlist
There is nothing better than a good playlist to motivate your run, but there are pros and cons of running to music. There is research to suggest music can have a positive impact on your running performance.
There is also an argument that having headphones puts you at risk of not being alerted to potential dangerous situations like traffic.
If you're unsure which way to go on this, further research has shown that even listening to music before and after a run can help improve performance.
I'll let you make your own mind up, but run safely.
16. Don't Panic when things go wrong 
When picking the route you will take it is worth considering what you might do if the worst happens. If you turn your ankle over a kerb or simply hit the 'wall' how will you continue on your journey to either work or home.
For the first few weeks of running to work you may want to consider running along a transport route (bus or train) so that if the worst does happen you will still be able to make it into work in time.
It probably goes without saying that it is always important to carry a small amount of cash with you running. This can be very handy for an emergency bus ticket of stopping to refuel.
17. Minimise what you carry
The first thing to consider is what you will be able to carry and what you can leave at work. The plan here is to leave as much at work as possible!
This will very much depend on the dress code at your place of work. If you are required to wear a smart suit to work, it is worth leaving the suit and smart shoes there and simply take a fresh shirt with you in your backpack.
Your other option here is to consider taking a week's worth of clothes to the office on say Monday using regular transport and then run to work the other four days.
Backpacks around 15 litres will carry a fresh shirt, a small coat and an iPad. You might squeeze a small laptop into it as well, but it worth checking.
18. Pack a couple of plastic bags
You will inevitably have to run in the rain at some point so it is important to be prepared. Even the sunniest morning can turn into a heavy downpour so never be fooled!
Many running back packs do come with a rain cover concealed in a lower pocket, but we advise to air on the side of caution and also wrap all of the clothes you need for work inside one of the plastic bags.
A second plastic bag is for your running kit when you get to work, if you're not planning to run home you will need it for your used kit.
19. Hydration
You might think that running only a short distance you wouldn't need to take a drink, but it is certainly worth while having a bottle of fluid in your back pack. This doesn't mean a full bladder hydration system, although by all means try one.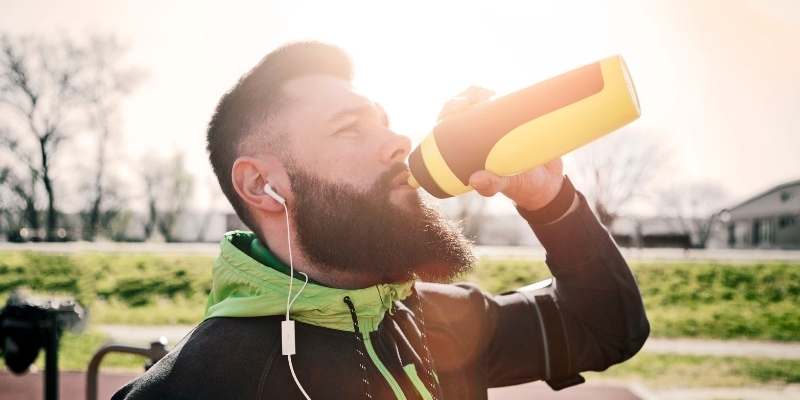 For starting off however a simple round water bottle should suffice and most running back packs include mesh pockets on either side which are perfect for securing these.
If you're the just starting out in your running adventure you will certainly be glad of a drink when you arrive at work so it's good to have one to hand with you.
To go once step further, consider mixing in an electrolyte tablet which helps reduce muscle fatigue and cramping. Runner Connect have written a very thorough article on electrolytes if you want more information.
20. Find a storage place at work
You're going to need find somewhere at your workplace to store a range of refreshing wipes and sprays to get you feeling fresh after your morning run.
This could be an office drawer or filling cabinet. If you're really lucky your workplace will have lockers and showers. In my experience this still isn't commonplace enough, maybe one day employers will catch on to the benefits of healthy employees…
21. Stock up the toiletries at work
If your workplace doesn't have showers then you need alternative means to dry off and freshen up otherwise your work colleague will no doubt start to make comments about the smell! There is no getting away from the fact that people with short or no hair have a distinct advantage at this point.
Things to keep at work:
Deodrant spray
Shampoo / Dry shampoo
Scent-free baby wipes
Footpower
Small jug
Flannel
Towl
Hair products (wax or gel etc)
A quick note on the dry shampoo. This is totally a personal preference and definitely worth testing out before you actually use it at work. 
22. Use the disabled toilet to freshen up
Nearly all workplaces will have some kind of disabled toilet. The great thing for a commuter runner needing to freshen up is that these are single occupancy, have a larger floor space and provide more privacy to wash yourself and get changed.
Fill the basin in the toilet with hot water and proceed to wash your face, neck and ears thoroughly. Depending on gender you can then wash the rest of your body as best you can, removing as much sweat as possible.
Use the water jug just to pour water over your head if you prefer to use traditional shampoo, or apply the dry wash shampoo if applicable.
Dry yourself off with the towel and apply deodorant and foot powder before getting dressed.
23. Use clothes spray to freshen up your running gear
Make sure you have a bottle of clothes freshener in your work storage drawer. If you plan to run to work and back again you will need to dry and freshen your running clothes.
Hopefully your workplace has radiators where you can leave the clothes to dry, but this will only serve to annoy your work colleague with the smell. A quick spray with something like Febreze Lavender & Camomile Fabric Refresher 500ml will do wonders to dampen the odours as your clothes dry. Give them another spray halfway through the day and you'll have dry and fresh running gear to put back on for the home run.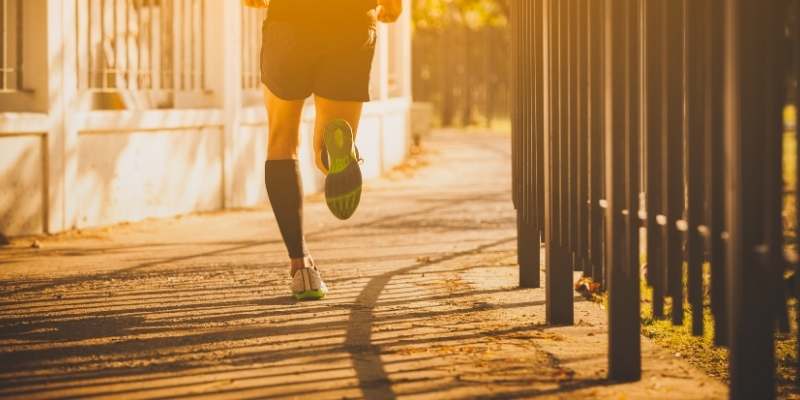 Conclusion
Running to work is a great way to get those extra running miles in and can save you a lot of money not using public transport or your own car. It is important to prepare and make sure you able to run the distance and to minimalism the amount of thing that you absolutely need to carry. 
Hopefully the run will leave you feeling energised and ready for work when you arrive. Happy running!
References
Optimizing beat synchronized running to music
The Pros and Cons of Running on an Empty Stomach