Many runners like to take their phones with them since they can use various running apps to track their data, and it's a handy device to have with you. You may have noticed, however, that a phone poses some challenges to runners since you don't want to hold it the whole time or where you don't have pockets to put it in, what are you options?
The best places to put your phone when running include Flipbelts, jackets, armbands, SPIbelts, hydration belts, water backpacks or tucked into sports bras. You could also wear a smartwatch for your runs instead of carrying a smartphone since it still lets you play music. 
If you'd like to discover how to use each of these running carriers with your phone, keep reading as I highlight the benefits of each one to better understand which one to use for your running. Some people carry their phones for the whole run but you have better choices.
#1: Flipbelts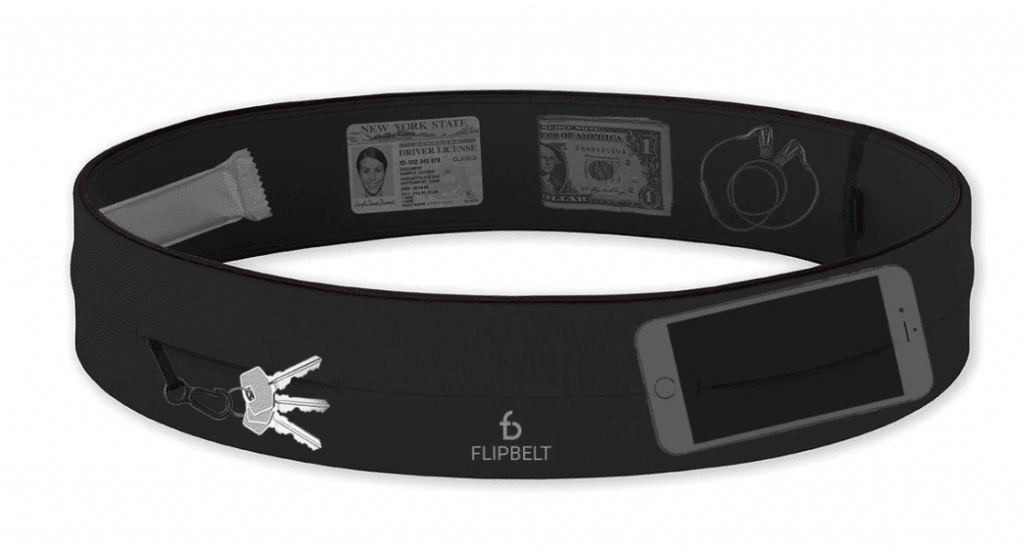 The Flipbelt offers a new alternative to those who dislike running with an armband. Unlike the armband, the Flipbelt hands you an alternative to running that feels lightweight. You can trust that your phone, wallet and keys will remain secure during a run. Especially if you like to do rough runs such as trail running, a Flipbelt keeps your phone and other stuff secured. 
Many runners took a liking to Flipbelts over the old choices since it can hold all of your essentials. It can hold big phones because of its stretchy fabric. Flipbelts sport a sleek design, and you can't feel it during a run. It remains in place, and it won't lead to chafing. 
It only requires a little practice to learn how to pull out the phone from the hidden pocket. That proves an advantage for individuals who want to check their mileage or adjust the music. You can barely see the outline of the Flipbelt when you wear it. 
You do have a couple of downsides that can help you to make a smart choice. First, Flipbelts have four layers of fabric that can make runs on a hot day more difficult. Especially if you run in Phoenix or San Antonio, a Flipbelt adds to the heat. You should also be aware of how this belt isn't waterproof, which makes it a poor choice to run in on a rainy day or if you sweat a lot. Some guys may not like it because it has a somewhat feminine look that may not work for everyone. 
If you'd like to learn more about the Flipbelt, you can check it out here.
#2: Jackets
Jackets work best for those in colder climates where they won't overheat. Getting the proper ventilation is a must, and the ideal running jacket will keep you lightly insulated and dry. To remain comfortable in a jacket, you need the right temperature outside. For morning runners, you can often get away with a jacket easier than noon or evening runners. Jackets have an advantage in that they will have pockets where you can store your phone and other valuables. Keep in mind that you may want to look for one with zipper pockets to secure your phone so that you don't have to worry about it falling out during a run. 
The downside of a jacket is that you cannot and should not wear it in weather over 80 degrees. Running raises your body temperature already, which could make it dangerous to run in a jacket in those conditions. For those interested in a good running jacket, I would recommend my Salomon running jacket if you're interest in this option.
#3: Armbands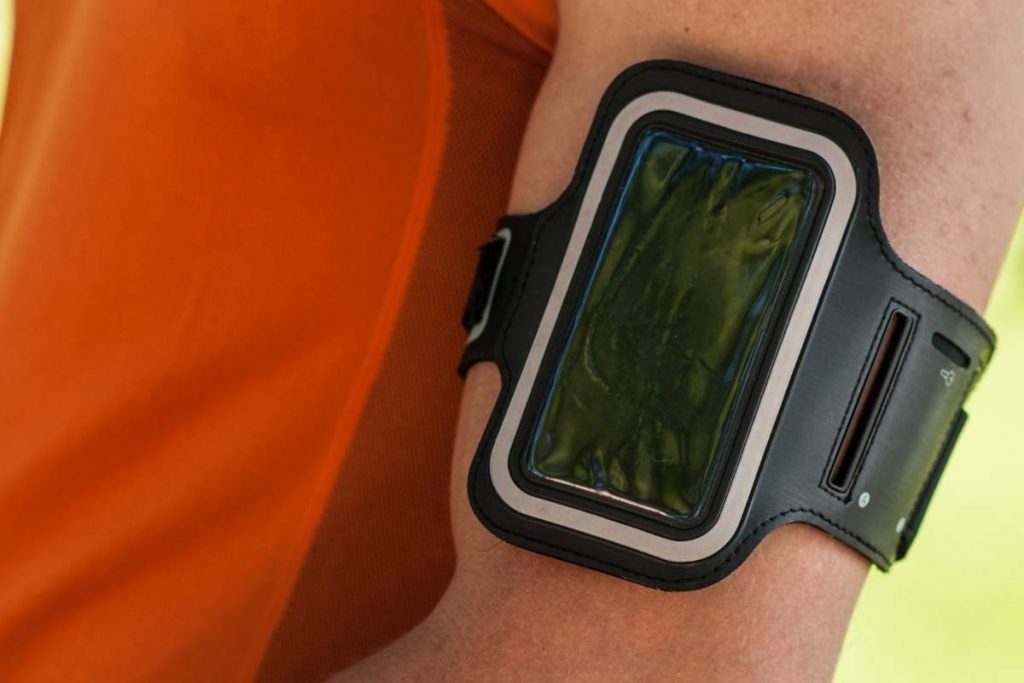 Armbands have long been held in high regard in the running community. However, you should understand how the armband will depend on the model of your phone. It will differ for each phone model, which can confuse you since you have to buy the right one. 
Carrying your phone in an armband allows for easy access of your phone to play music, check maps and examine data from your apps. Running belts don't have as much accessibility as an armband. 
Take precautions to protect your phone when it's in the armband. Check for armbands that consist of neoprene for extra water resistance. Armbands don't require you to take the phone out to change to the next track. 
You can outfit an armband with a reflective strip to make you more visible for night running. Runners must stay alert to the possibility of this danger, but an armband keeps you safe with an extra benefit. If you're looking for a good armband, I would recommend the TRIBE Water Resistant Cellphone Arm Band. 
I would recommend this choice for those who take phone calls on runs as well since the ease of accessibility makes this more agreeable than a running belt.   
#4: SPIbelts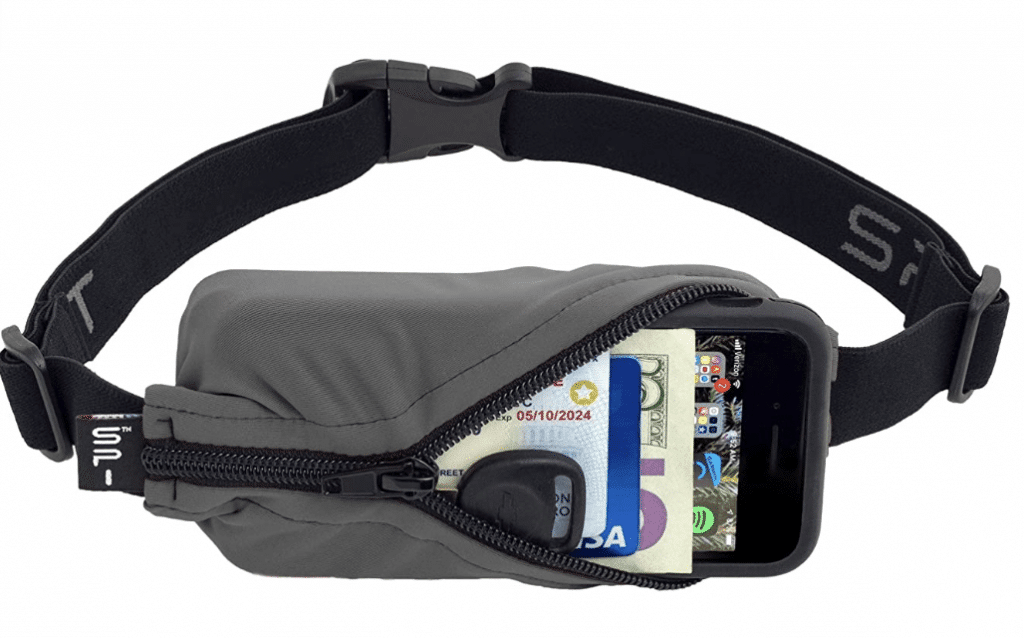 SPIbelt credits it as the original running belt. SPIbelts allow for bounce-free running, and you can adjust them for comfort. Due to the design, SPIbelts fit over clothing and while a traditional fanny pack feels bulky and uncool to wear, SPIbelts don't draw as much attention to you. You can wear it under clothing as well. 
It can hold your phone, but I would say that the more limited space may not make it the ideal choice for everyone. Still, because of the snug fit, you don't have to worry about it bouncing around during a run and chafing. 
Because this belt consists of comfortable, soft elastic, it avoids the problems many of the other belts suffer from, such as chafing and discomfort. For anyone worried about size, you can buy the extender to add to the belt's length. You could double it as a race number belt if you plan to run a marathon. 
Like the other choices, the SPIbelt does suffer a flaw in that it lacks water resistance. You also can't carry a water bottle with it, which may prove off-putting to some runners. Overall, it gives a decent value and will prove comfortable for most people. Some of this comes down to experimenting with the different options to hold your phone until you find one that you like. You can check out the SPIbelt here.  
#5: Hydration Belts
Runner's World recommends that you drink 5 to 12 oz of water for every 15 to 20 minutes that you run. Studies have also shown how a dehydration rate of two percent of your body weight can lead to a six percent drop in performance. Keeping a hydration belt ensures that you don't slow down during your run.  
At the same time, running without water poses a danger. Having a hydration belt on hand reduces the risk that you would feel overly dehydrated during a run. 
Hydration belts eliminate the need to stop at a water stand and waste time. You won't fumble around with the water bottle either. Some of them will also let you store your essentials, such as your phone. Many of them will have four or five pockets, which allows you to store the largest phones. You can buy them with a water bottle or without. 
To choose a hydration belt, keep these things in mind. First, the belt should feel comfortable and lightweight. That allows you to do ultramarathons and high-intensity runs without the belt getting in the way. Second, check to see that the belt doesn't slip up or down on the body since this can lead to chafing. The best hydration belts will stretch and conform to the body.
For a trail runner, you will want a hydration belt that stores a water bottle and all the essentials, such as your phone, keys, trail running poles and jacket. Ideally, the hydration belt should have a waterproof section where you can stash your smartphone. 
Keep in mind that many hydration belts will store your water in a soft flask over a regular water bottle, but they will serve the same purpose. 
What are some of the disadvantages of a hydration belt? First, they can slow you down. Second, the water sloshing around can become a serious annoyance to some since you will notice it more. On a hot day, the water may become warm, which won't feel refreshing. Many experienced runners get around the issue of hydration by drinking before the run and planning a run with a water fountain somewhere. Also, if you start to feel dehydrated, simply take a break. Don't risk your health. 
For those interested in learning more about hydration belts, I would recommend the Naked Running Band. You can buy it in 12 sizes, and it includes an area to store your phone during the run. 
#6: Water Backpacks
Keep in mind that whatever you choose to run with, you will want to include it with your marathon run since we do our best when we train with what we had Because they're larger than the other choices mentioned before, you can stash them away in a water backpack with little trouble. 
Most water backpacks today were designed to minimize your load and create a light vest for carrying. Some were made for trail running and others were made for ultramarathons. The best features will depend on the type of running that you want to do. 
Hydration backpacks work well for trail runners who will run more than 6 miles. For those cases, a water backpack can make more sense than the other choices, and it lends you more storage. 
Before you pick a water backpack, first check to see that it will have the space required for your gear and water. If you just want a place to stash your phone, your needs will be significantly less. Most hydration backpacks will come in sizes that range from 1 liter to 3 liters. A larger water bottle will make it heavier to carry. 
You also want a water backpack with good ventilation since you may sweat at the shoulders, back and hips. This can make it uncomfortable and cause chafing. If you'd like a good hydration backpack, I'd recommend that you check out the Salomon Sense Pro 10 since it will carry a phone as well. It has two zippered pockets to secure your gear. 
#7: Sports Bras
This option applies specifically to women since you have a convenient place where you can store your phone—your sports bra. Many female runners will keep their phones in their sports bras when they run. In particular, I would recommend that you buy a sports bra that they made specifically for this purpose. It will even include pockets that allow for easy storage. 
Along with storage of your phone, it will often allow you to store your credit cards, keys and energy gels. The pockets allow you to slip the phone in and out easily. Some people will use a clip to clip onto the back of their sports bra to store the phone. 
If I were to recommend a sports bra, I would say to check out the Brooks Drive 3 Pocket Run Bra. It can store your phone while remaining snug enough that it won't bounce around. 
Alternative to a Phone
Instead of having to carry around a phone at all, many have chosen to buy a smartwatch. You can still listen to your music, and you can run the apps that will analyze your workouts. Smartwatches today will even allow you to send and receive phone calls. Just make sure that you buy the right one. 
The technology nowadays has made it an even more attractive choice to runners. I would recommend that you buy one specifically made for running since it will include all the features that you need for it. Some of the best smartwatch features for running include:
Good music storage
Workout recommendations
Heart rate monitor
GPS
Safety features
Nighttime display for workouts after dark
For the best running watch, I would recommend the Garmin Forerunner 945 LTE. It stores up to 1,000 songs and has heat and altitude tracking, which can prove useful for runners. It was especially intended for trail runners, triathlon athletes and endurance runners. 
Final Thoughts
Some runners will hang onto their phones in hand for the entirety of their run, but this lacks convenience. It can become a hassle when you run for 5 to 10 miles. Instead, use one of the carrying options that I outlined above. You can also do away with the phone on runs entirely and go with a smartwatch. The technology has grown leaps and bounds in the last decade.